King Christian School Gift Catalogue
You can help make a difference in furthering Christ-centred education in our new school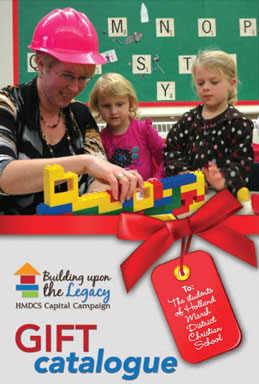 Our community has cherished HMDCS for over 70 years, and we are now entering a new chapter in a story of God's faithfulness with the construction of our new school facilities.
We invite you to consider sharing your blessings with a gift towards specific furnishings and equipment for the facilities. This is an opportunity for you to give to something specific that you feel is essential in the Christian education we provide. Your gift is your voice saying, "this should be included and here are funds to pay for it". From the classroom to music rooms and the gym, and beyond to the servery, staff room, and the exterior of the school, there are many ways to help.
---
"Each one must give as he has decided in his heart not reluctantly or under compulsion for God loves a cheerful giver."
- 2 Corinthians 9:7
---
Review our Gift Catalogue to find the gift that you would cheerfully give to King Christian School.